When Two or More are Gathered Together . . . The Power of Collective Intelligence: Overview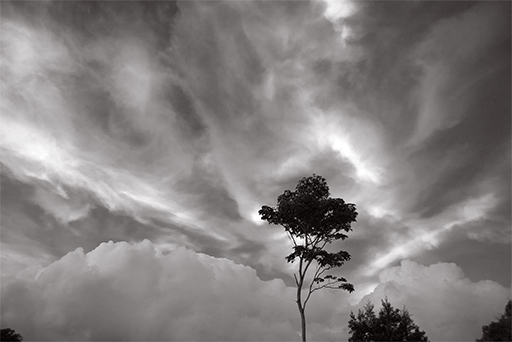 Untitled, Honolulu, HI 2005
"We obviously cannot confront this tangled world alone…. It takes no great insight to realize that we have no choice but to think together, ponder together, in groups and communities. The question is how to do this. How to come together and think and hear each other in order to touch, or be touched by the intelligence we need?
—Jacob Needleman
A new idea is dawning, gathering force in such diverse fields as the arts and sciences, organizational leadership, civic affairs, academia, and athletics. And along with the idea comes a new capacity for human experience that, according to evolutionary biologists, has been simmering under the surface for a million years or so. The idea that is thundering through the boardroom, the basketball court, the classroom, the community forum and symphony hall is known as "collective intelligence," that the power of we is greater than the power of me, and that the whole is greater than the sum of its parts.
Collective intelligence means many things; there is no single definition that fits the scope of the theme. Among the many dimensions are the art of human association, the power of the group, creative collaboration, synergy and teamwork, the soul of partnership, as well as sources of transpersonal wisdom that lie beyond our conscious awareness. When Two or More are Gathered Together explores the many sides of collective intelligence and elucidates current developments of the theme from experts in psychology, science, business leadership, the arts, and the human potential movement. Each chapter investigates a different dimension of the theme, and closes with a section titled Questions and Practice, to assist individuals and groups in realizing the practical implications of the ideas and putting them into action.
The working premise for the book was offered by Professor of Philosophy and author of numerous books, Jacob Needleman, with the following question: "We obviously cannot confront this tangled world alone…. It takes no great insight to realize that we have no choice but to think together, ponder together, in groups and communities. The question is how to do this. How to come together and think and hear each other in order to touch, or be touched by the intelligence we need. …I [believe] that the group is the art form of the future…."
When Two or More are Gathered Together gives readers a broad and accesssible overview of collective intelligence and transpersonal wisdom, and shows how they may integrate larger forms of intelligence into their own lives. Through nine chapters, an introduction, a forward, and a thorough bibliography to help readers locate the many original sources of research, it offers significant guidance in how readers may access the potential of collective intelligence to deepen their understanding, enrich their lives, and assist in the evolution of the culture, whose future now rests in our hands.